Invisible Aligners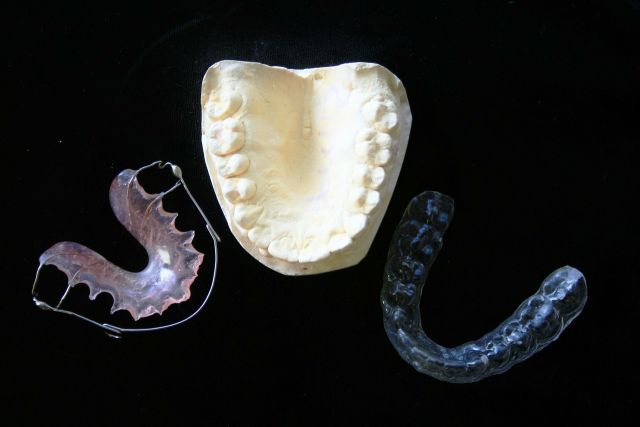 Definition:
a transparent custom-made orthodontic appliance that fits like a tray over the teeth and corrects misalignments.
The clear (almost invisible) aligners work by the same principle as braces, moving your teeth gradually to the desired position. However the invisible aligners are only suited for mild and moderate cases of misalignment, while in more severe ones only braces or other orthodontic appliances are applied to correct the teeth problems. 
How does it work?
There are several steps in the process of correcting teeth misalignments with the use of invisible aligners:
You need an appointment with an orthodontist so that he/she can evaluate your misalignment problem and create a treatment plan
If clear aligners is the right choice for you, the next step is taking impressions of your teeth using a putty material, and/or take 3D digital images of your teeth and bite using an intra-oral scanning device
The digital image is then analyzed by a lab technician that measures the misalignment and, using a specialized computer program, calculates the ideal position of your teeth to correct the problem;
Your orthodontist receives the image of how your teeth will look after the treatment plan and shows it to you. Once you both agree and approve the treatment plan made individually for you, the lab technician starts creating your custom made aligners. As soon as they are ready, you begin wearing them
Every 2-4 weeks you will receive a new set of aligners designed for your already shifted teeth
Treatment time varies on the misalignment problem, but it usually takes 10-24 months, and in some mild cases the time might be reduced to 4-6 months
After the treatment plan is complete and you have the desired smile and teeth alignment, you will need to wear a special retainer for a couple of months, to keep the right position of your teeth in place
Invisible Aligners vs Braces:
What are the risks?
There might be some small discomfort at the beginning but after a couple of days, you will get used to the device. 
How to prepare for the procedure?
There is no special preparation other than cleaning your teeth.
How to take care of the invisible aligners?
You will be required to wear the aligners 20-22 hours a day, removing them only when you need to eat, brush or floss
Clean the aligners before wearing them, occasionally soaking them in a fizzy solution of dental cleaning tablets
If you lose your aligners, start wearing the previous set and get an appointment as soon as possible with your orthodontist
 
If you're interested in Invisible Aligners, you might want to check out the Dental Treatment Packages offered by clinics on our platform.

Also, our articles on Orthodontics and Teeth Whitening could be enlightening for further exploration of dental aesthetics.
Providers that provide Invisible Aligners Service