Dental Crowns and Veneers in Hungary with Contident
In this article, you will read about:
Best Materials for Crowns and Veneers

How Long do Crowns and Veneers Last?

How to Take Care of Crowns and Veneers?

How are Crowns and Veneers Attached?

How Painful is the Dental Procedure?

How Much Crowns and Veneers Cost?
With borders slowly opening, Medical Tourism is again an option if you are considering dental treatments. To inform you better on what destinations and treatments are available, we discussed with Dr. Lorand Gergerly from Contident Dental Clinic in Hungary.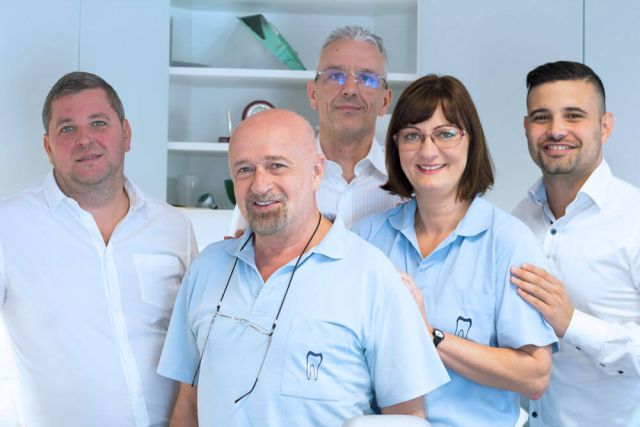 "I founded Contident in 2011 with 25 years of experience in dentistry. From the beginning, the most important thing for us was that offer the best experience for international patients during their stay in Hungary and to feel at ease. We offer support both in our Clinic and during stays if necessary. Our prices contain a guide who will be with you for all your stay. We will be waiting for you in front of your accommodation, will go with you to the clinic and back, and will help you with everything you need for all your stay. In my opinion, we are the only ones that offer such services. For the support offered, we do not demand additional payments, only for dental procedures. No hidden extras"
"Contident is mostly recommended for those patients who want a calm, relaxed, friendly environment combined with high-quality dental service"
Dive deeper into the topic of Dental Crowns in our dedicated article.
What are the Best Materials for Crowns and Veneers? 
"The best material for veneers currently is IPS e-max. For metal-free crowns are the materials zirconium and IPS e-max. The zirconium material is good for crowns and bridges, IPS e-max is used only if we only need crowns or a maximum of 3 pieces bridge"
What Materials do you Have Available for Crowns and Veneers? What are the Advantages?
"For veneers and crowns, we use IPS e-max material, and for bridges and crowns, we use Procera zirconium. I want to maintain that the most important thing in the case of materials is to be original. Unfortunately, we also find fake materials called e-max or zirconium, but they do not have the quality needed for the work to be excellent. Our clinic and laboratory always buy materials from suppliers who can prove the originality of the materials. For example, in the case of e-max material, this material originates from Ivoclar, one of the largest and most recognized dental material companies in the world. In the case of the zirconium material, one of the most recognized is Procera. The biggest advantage of these materials is that they are manufactured at the highest quality level. These companies invest a lot of time and money in research and development of materials. Because of this, the works from these materials, which we also use, adapt extraordinarily to the tooth.
They have an outstanding cosmetic appearance and exhibit the natural translucence and shine of healthy teeth. The opalescence, translucency, and light diffusion properties are designed to replicate natural tooth structure for beauty and undetectable restorations.
They can be color-matched to your existing teeth for a seamless, natural smile, and they can also be fabricated to the shade and color of your desired ideal smile"
How are Crowns and Veneers Attached? How Painful is the Dental Procedure?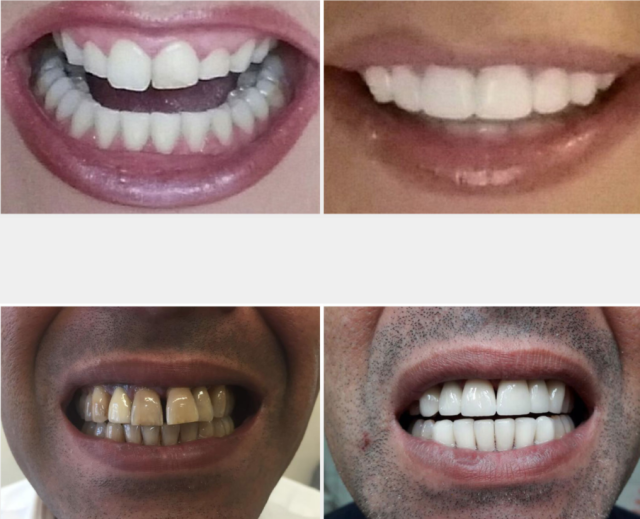 "On the first day, the doctor will drill the surface of your teeth and after will get a mold. In the case of veneers, he will drill only 0,3-0,5 mm from the first surface of the tooth. In the case of crowns, the tooth is needed to be drilled around. The mold is sent to the laboratory where the specialist will start to make the veneers or the crowns. After 2 days you need to go to the laboratory, where you will get a few try inns. If you want some changes, they will be done, and only when you say everything is how you want it the final work will be done. After that, you will be transported to the clinic where the work will be fitted in your mouth.
The most normal and important thing is that the patient always has 0 pain. 98% of cases are done with 0 pain, but the truth is, as there are a few patients with very low pain tolerance, they can have a little sensitivity"
Learn more about Dental Veneers in our in-depth article.
How Much Crowns and Veneers Cost?
"Our prices are 50-70% cheaper than in Western Europe, the UK, and USA. A zirconium crown is € 365 or £ 328. An e-max veneer is € 399 or £ 359. In both cases at our clinic, if someone needs more crowns or veneers, not just one, the prices will be cheaper"
How Long Do Crowns and Veneers Last?
"If they are well cared for, they can last 14-15 years"
How to Take Care of Crowns and Veneers?
"You should always have good oral hygiene, just be gentle with the products you choose. When brushing your porcelain crowns, be sure to avoid whitening toothpaste. The abrasive materials such as activated charcoal, baking soda, and the like can wreak havoc on your crowns over time. Avoid and be careful with hard foods and very sticky foods that can pull on your crowns or veneers. Avoid large amounts of alcohol intake.
Additionally, you should avoid using your teeth as a cutting tool. Never use your teeth to tear packages open or remove tags from clothes"
Continents offer a one-year warranty for veneers and a 3-year warranty for their crowns. Also, the clinic has the option of online consultations for foreign patients, so don't hesitate to contact them for more information.  
Discover Dental Packages related to Crowns and Veneers offered by clinics listed on our platform.
Country Reference
Services