Buttock Lift or BBL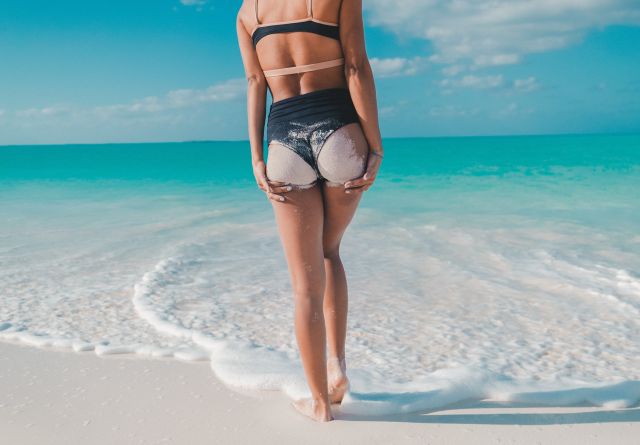 Known also as a butt lift
Definition: A butt lift is a cosmetic surgical procedure that eliminates, via excision and liposuction, loose and hanging skin from the buttocks (due to weight loss, aging or genetics), resulting in an elevated and improved contour of the buttock. A similar procedure called "Brazilian butt lift" uses the same technique, but adds volume to the buttock using a fat transfer from other parts of the body.
How does it work?
The surgeon makes an incision on the top of the buttocks, hips or under the buttock cheeks to remove the excess skin, and then sutures it tight so there is no loose skin. Using this in combination with liposuction of the hips or thighs may result in completely reshaped buttocks. The procedure usually involves general anesthesia.
What are the risks? 
Infection;
Damaged skin and/or under the skin bleeding;
Skin numbness;
Irregular contours or asymmetries;
Fat embolism;
Swelling and bruising.
How to prepare for the procedure?
Perform specific Lab tests for medical evaluation, a common step before any type of surgery;
The use of anticoagulant and anti-inflammatory medication should be ceased two weeks before surgery (to prevent bleeding);
It is recommended to stop smoking for 2 months before and after the surgery.
How long does the procedure take?
The procedure usually lasts about one to two hours. The patient can go home the same day after the procedure or may require one day of hospital recuperation. Make sure you have someone to drive you home.
How to recover after the procedure?
Bandages and compression garments will be applied to keep pressure and prevent bleeding. They should keep for about 6 weeks post-procedure;
It is not advisable to sit on your buttocks for the first two weeks;
After two weeks you can sit on the buttocks using a boppy pillow. This will pass on the pressure to the tights instead of the butt;
During the first post-operatory period you should sleep on your belly or your side;
Avoid heavy exercise for at least two months after the surgery;
You should be able to return to work two weeks after the procedure while limiting the time you spend sitting on the buttocks;
Don't forget to attend your follow-up visits with your surgeon.
If you're considering a Buttock Lift, it's important to know the risks. Make sure to read our article on Why The Brazilian Butt Lift Is The Deadliest Beauty Surgery.

You might also be interested in a Patient Story: Brazilian Butt Lift Before And After to understand the journey of a real patient.
Providers that provide Buttock Lift or BBL Service