Patient Story: Brazilian Butt Lift Before and After
In this article you will find the answer for:
What is a Brazilian Butt Lift?
How to Find a Good Doctor for a BBL?
How a Brazilian Butt Lift is Done?
How is the Recovery from BBL?
How Painful is the Brazilian Butt Lift?
How Much is a Brazilian Butt Lift?
Beauty comes in all shapes or forms, but as we all know, nowadays these shapes and forms can be easily modified. Plastic and cosmetic surgeries progressed to being accessible, safer and with high-quality standards. 
One of the top cosmetic surgeries is the Brazilian Butt Lift (BBL). It is a procedure where the body fat is transferred from certain areas of the body (stomach, arms, back, etc.) to the buttocks, to enhance it and give it a more round shape while slimming down other parts of the body. 
To get more insights about this procedure we talked with a recent BBL patient - Raphaela, she is a 30-year-old lady from Recklinghausen, Germany that about a month ago had her procedure done in Marbella, Spain.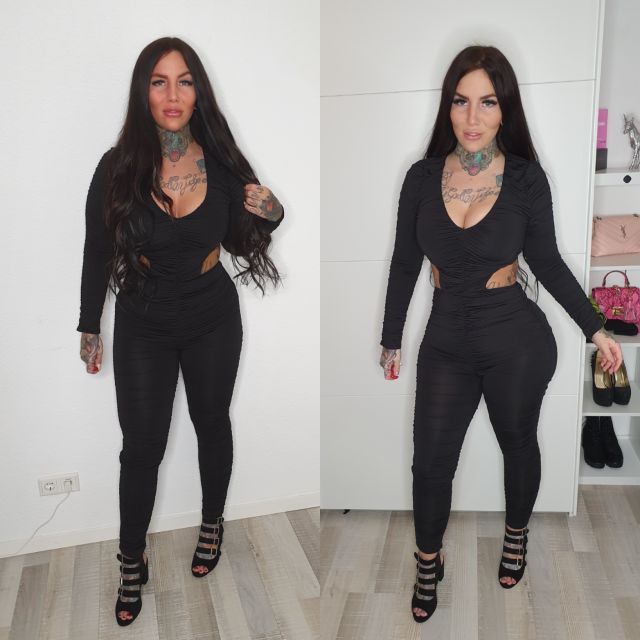 "I had a BBL and liposuction 360, some call it body sculpting. I wanted it because my booty was not so beautiful, I did a lot of sports but it never grew and it wasn't round, I had a more square shape that I did not like. I found out about the procedure online, because in Germany people do not really talk about plastic surgery, so I went on Instagram, I followed some surgery pages and looked at their work, results, and patients
"
A Brazilian But Lift is one of the most famous and at the same time dangerous aesthetic procedures that can be deadly in worst-case scenarios. One of the main problems, which was a concern for Raphaela as well, is a fat embolism. 
If done incorrectly, injecting fat into the buttock can easily lead to serious damage. These include a fat embolism when fat enters the bloodstream and blocks a blood vessel. For example in the lungs it stops oxygen from passing into the bloodstream, while in the brain it can lead to a stroke – both can be lethal. It's also important how much fat is transferred, the health condition of the patient, doctor's experience and under what condition the procedure is done. 
"I was scared of fat embolism. It is the most dangerous thing in this surgery, but the surgeon I went to is well known for his good results and techniques that make the procedure safe. I found my doctor online. I followed him for over a year, looked at his results, at patients operated by him and how they were and I decided to have a consultation in Marbella where his clinic is. I also read articles about him, interviews with him, I saw that he often goes to international Conventions and it made me trust him more"
"When I was at the clinic in Marbella for my first consultation, the doctor took his time to explain everything to me. The consultation was over one hour, where I asked all of my questions and found out more about his technique and that it had lower chances of fat embolism and overall lower risks if done correctly. Of course, I've been told plastic surgery is always risky, but if done properly by a certified doctor and the patient is healthy it is much safer"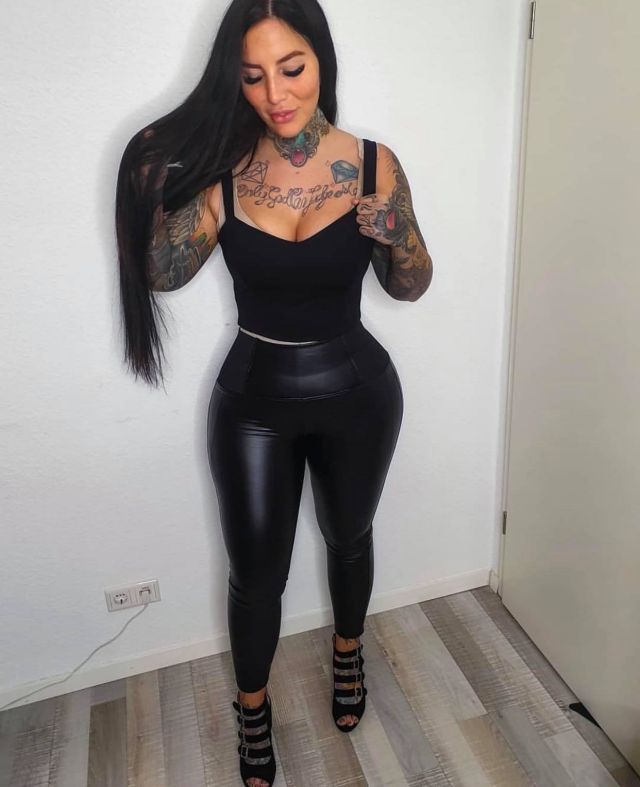 Raphaela had her first consultation in August 2019 and she booked the surgery for January 2020. Two weeks before the surgery she had to do a full blood test and send the results to the clinic for them to check if she is healthy enough for the surgery.
"After you had the first consultation and your blood tests were good, you can go to the clinic for the operation. They offered transport to every appointment, picked me up from the airport and I had to stay there for one night before the operation. The next day was my surgery. I had it done under general anesthesia and I had an epidural for the post-operation pain. Before the procedure, they told me a lot of information about it and all the risks for which you have to sign"
The doctors took fat from her stomach, arms and back and transferred it to her backside, 2000 CC each side. They took out 6 liters of pure fat from which 4 were transferred to her buttocks. As Raphaela told us, you cannot do it if you don't have enough extra body fat. So it is not a suitable procedure for very slim people.
"I had enough fat for it to be transferred and there was no need for implants. I even lost weight before the procedure to have better results, the doctor did not tell me it was necessary but I wanted a bigger difference. They told me the perfect body fat percentage is between 25-30% "
Recovering from a Brazilia Butt Lift is challenging and overwhelming. Patients experience a lot of pain and soreness in the areas where the fat was taken and transferred. This was the case of Raphaela as well.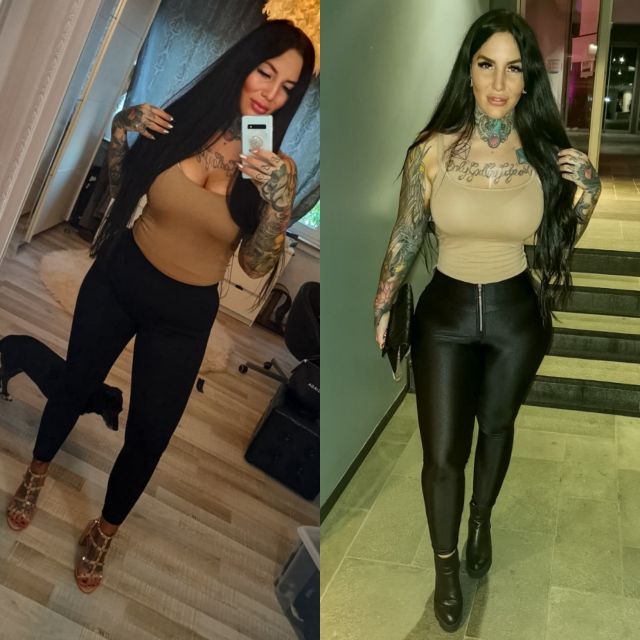 "Right after the operation, I was in a bad condition. I was constantly vomiting as a side effect of the anesthetic. It was really hard. My arms and belly hurt, I felt so sick and dizzy. I stayed in the clinic for one night and after that, I stayed for one week in the recovery house of the clinic. After one week I could go home, if I had implants I would've stayed for two weeks. The first three days were really hard, it felt like I was hit by a car. If you would have given me a reset button I would've pressed it. But after the first three days, it was completely different, I felt so much better. The recovery house was perfect, they prepare food for you, clean the room and everything else so you can recover"
For the first week while being in the recovery house she took antibiotics and pain medication, but she had to quit it after three days due to side effects. Even though she quit painkillers the pain was manageable after three days and she was starting to feel better and noticed immediate changes in her body.
"Right after the operation I noticed that my booty was bigger and my waist smaller, but it did not look as it looks now, after 3 weeks. I was really swollen right after, I felt like a water ball, but it gets better day by day and you start to see the difference. Right now I am still swollen in my legs and arms but it will go away and I now can see a big difference"
To fully heal after a BBL and see the final result you need half a year but in around six weeks it is expected to be a major difference in how you feel and look. During this time you are not able to sit for at least four weeks and you have to wear a compression garment all the time for six weeks and then for 12 hours a day for half a year. 
"I have to lay only on my stomach, not on my back and I should not sit. I wear my garment all the time, I don't only when I am washing it. Also, you should not diet, just go to your normal life. For six weeks I am not allowed to do any sports but I am not able to do any. For example, if I walk a little bit too fast it's hard, and it can hurt a little, so I am not fit to do any physical activities for now"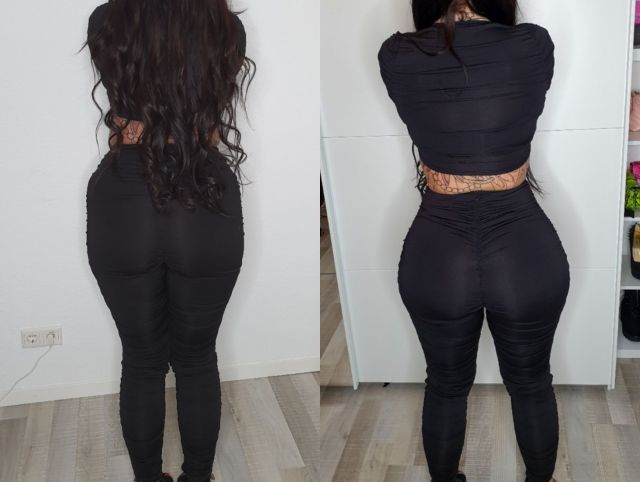 The results of a BBL are permanent but if you lose or gain a considerable amount of weight the results of your operation will be affected. 
It was not cheaper for Raphaela to get the surgery in Spain, but she did not find a doctor she liked in Germany. She wanted to go to the specific clinic in Marbella because she trusted their results more. As she told us, BBL costs between 8 000 - 12 000 Euros depending on your specific case. She is almost one month after the procedure and she does not regret it at all. She advises others to look closely into the doctors and their results and to be sure it is the right procedure for them.
"The first week I said no I would never do it again, but now after I healed I changed my mind and I totally would. If you want it and have the possibility to do it then look at different doctors in your country, make an appointment with them, talk to them, also look at other surgeons abroad and when you feel safe and that this is the right thing for you, then you should do it. But if you are not sure then don't. It is a very hard process, you need time to heal so be sure that you want it. Don't even care about the price, the main focus should be your health"
Want to understand more about Brazilian Butt Lifts? Get an overview in our comprehensive Brazilian Butt Lift guide.

Get insights about the costs of the procedure in our Brazilian Butt Lift Price Comparison article.

Thinking about similar life-changing decisions? Browse through our curated Brazilian Butt Lift Packages from various reliable clinics.
Country Reference
Services