Patient Story: Rhinoplasty Journey
In this article you will find the answer for:
What is Like to Have a Nose Job Surgery?
How to Find a Good Doctor for a Rhinoplasty?
How is the Recovery from Rhinoplasty?
How Painful is a Nose Job Surgery?
How Much is a Rhinoplasty?
In a world where health care has developed to such a variety of services, molding and changing our appearance has become a want, not only a need. 
Rhinoplasty is a surgery that reshapes the nose. It can be done for medical reasons such as breathing problems or disfigurement after trauma, but it also can be done for aesthetic reasons, to improve the appearance of the nose. 
To learn more about what is like to have a rhinoplasty, we talked to Daniela, a 26-year-old developer from the Republic of Moldova who underwent the surgery in November 2019.
What were the first steps you took once you decided you wanted a rhinoplasty? 
I started by searching for rhinoplasty reviews on Youtube and forums. The videos were the most informative resource I found online. There's a lot of rhinoplasty vlogs that show the entire process inside-out, except the surgery itself (it's quite scary and morbid and I might have died inside a little when I found a picture of an unconscious patient lying on the operating table, the skin of their nose pulled over). Unfortunately, I didn't find much information about this type of surgery here in Moldova. Most results were Romanian forums recommending Romanian doctors. It's actually interesting how private Moldavians are compared to other nationalities when it comes to plastic surgery. Later on, I found out that actually a lot of women and men undergo various plastic procedures here, but they prefer to stay silent about it because of the stigma surrounding it.
I do personally know one girl who underwent the same procedure and she doesn't regret it one bit. Asking her to give me all the details (how much it costs, does it hurt, the facial changes you're exposed to after the surgery, etc.) has calmed me a bit, because, in all honesty, I was super scared. I never had surgeries before and my worst fear was waking up or feeling the pain during the whole process (we all watched that movie with Jessica Alba).
For about four months I kept watching video reviews and before-and-afters, weighing in the risks and deciding which doctor to go to. The clinic that I went to, AlterMed, has an active online presence on Instagram and it was easy to find them. I checked their website and what I liked the most about this clinic was the huge amount of before-and-after pictures they've taken of their patients. It undoubtedly gave me a sense of trust, because I could see the actual works of my future doctor. I googled his name too and his website popped up, where he listed all his achievements, medical degrees, and experience in the area.
How was your first doctor consultation?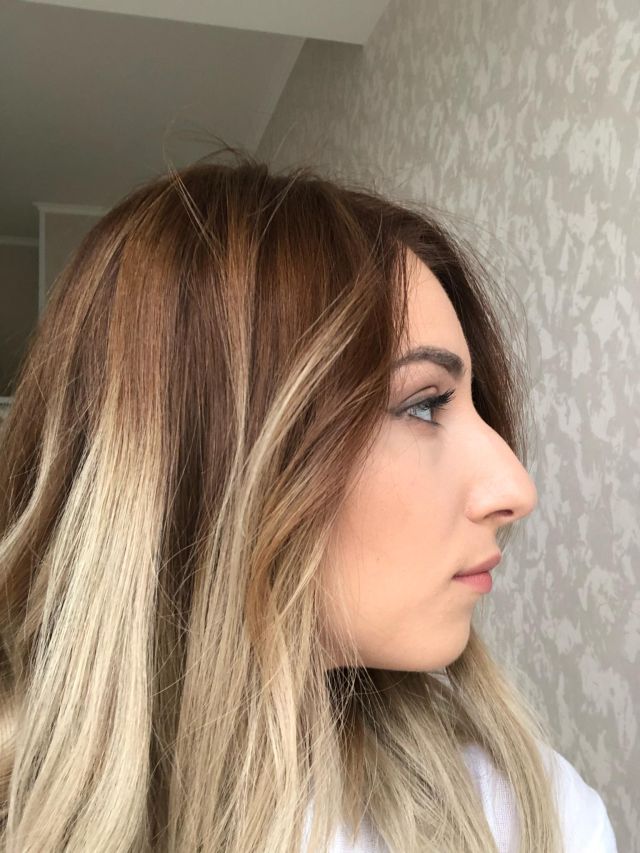 At the first consultation, the doctor asked me what I wanted to change about my nose and if I had respiratory problems. He told me to lay down and he touched my nose and gave it a couple of soft knocks. He then took pictures of my face from different angles, uploaded them to his computer and processed them in a simulation application. He came up with two simulated versions of my nose, and I liked the one where my nose was less decreased in size. I told him I tried to do the same thing in Photoshop, but my result was definitely less natural and as beautiful. I felt like the second version wouldn't suit my face and my side profile because it was too small, but what I liked about the whole thing is that you're given options and if you want, you can come with your own Photoshopped simulation and you can discuss the cons and pros with the doctor. What I liked about Sergiu Grati, my doctor, was the fact that he expressed a genuine interest in my potential future nose and advised me to opt for a more natural shape because of my facial bone structure. My main concern was getting rid of my nose hump, but he explained to me that he would also minimize my nostrils and the appearance of my nose altogether.
We decided to perform only rhinoplasty, without septoplasty, because my septum was fine and the deviation was not visible to a non-surgeon.
At the first consultation, the doctor didn't ask me for any medical check-ups.
How did you choose the clinic/doctor that did the surgery?
I know that it would have been much safer to consider at least three other doctors before making my decision, but I was hooked from the very first consultation to the whole vibe this clinic had about it. Everything felt reassuring and safe, the staff was polite at all times and the doctor had a calming effect on me, which is probably one of the most important qualities a surgeon can have when consulting a scared patient. Before going to Altermed, I was also considering Galaxia (my friend did her surgery there) and Medpark, but I didn't go to either of them.
Two months after my first consultation, I went in for a second one to discuss the details of the surgery. We set up a date in November, we discussed finances, the doctor took pictures of my nose and ran the simulation app again. One of the girls at the reception had fresh bruises under her eyes from a recent rhinoplasty and it was quite reassuring to see the staff get operated at the clinic they worked at.
How much did the rhinoplasty cost? 
The final price was ~36 000 Moldovian lei or 2030 USD(with the hospitalization). The initial price we agreed on was just for the rhinoplasty, but the doctor decided during the surgery to perform the septoplasty as well. I was explained that when they opened up my nose (yep, I had an open septorhinoplasty), they figured that if they were going to make my nose smaller and cuter and remove the hump, the septum deviation would become more visible and it would ruin the point of the surgery in the first place. In the end, I had to pay ~3600 lei or 200USD extra for the septoplasty. I didn't mind it.
How did you prepare for the surgery and how is the actual surgery?
Mentally, I was preparing myself by watching more rhinoplasty videos to get as comfortable as possible with the idea that someone's going to cut into my nose soon.
I had to run a list of blood tests for the surgery, and most of them were performed at Invitro Diagnostics, which was across the street from Altermed. Only the cardiogram and the chest X-ray had to be taken at another clinic. I brought most of the tests to the clinic the day I was operated on. I had the surgery scheduled at 9 in the morning on November 5th. It all happened very fast, they only gave me a minute downstairs to say bye to my boyfriend. At 9:30 (yes, I was late, but so was the other staff), they brought me into my room, told me to change into the hospital gown and to lie down. A few minutes after came the anesthesiologist and an assistant. They gave me an IV and said it would help me relax. I didn't notice a difference, to be honest. They had to take the cardiogram again because the one I brought was faulty. The anesthesiologist told me that during the surgery she would put a tube into my mouth and when she would remove it, she asked me not to bite it. I said 'okay'. A few minutes after that, the girl from the reception came to my room with the contract papers. I had a quick look over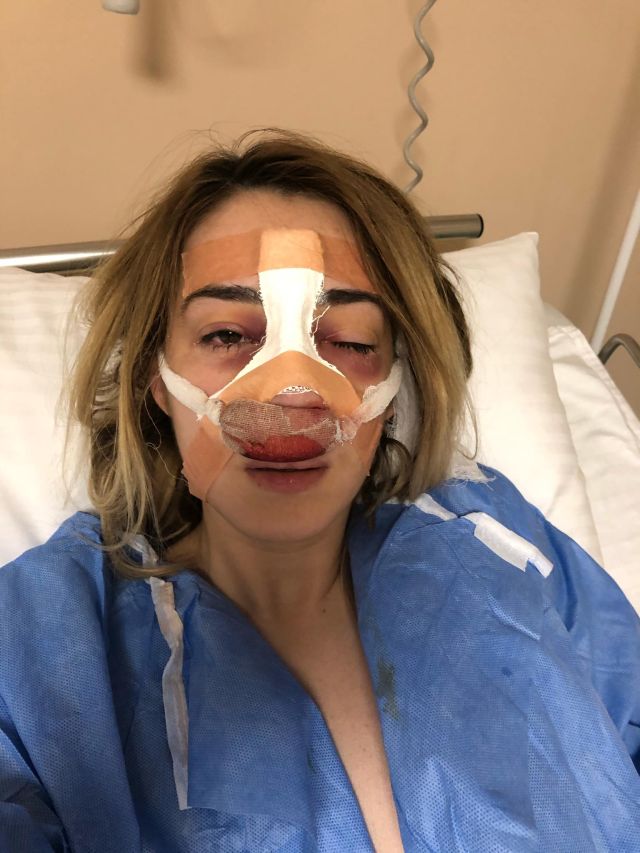 them and signed them. After that, dr. Sergiu came to me and asked me how I felt. He told me we would start the surgery soon and that everything was going to be okay. I'm generally an immense worrywart, so looking back at it now, it's still hard to believe I went through it all and didn't run away.
I think it was 10 am when the nurse told me it was time. My room was maybe three steps away from the surgery room. It's actually a small hospital and feels very cozy. When I went into the surgery room, I remember thinking 'whoever chose the wall paint color for this room is a genius'. It was pastel lavender. I remember when I got my chalazion surgery at Medpark earlier this year, I hated the muddy green color the walls were painted with. So the lavender felt relaxing.
I lied down on the table and the assistant gave me another shot of IV, only this time she said 'This is going to make you feel sleepy. You're going to feel tingles at the back of your head and in your private area in a few seconds.' I remember feeling them, but very vaguely. I was starting to feel sleepy. The anesthesiologist then leaned over my face and put the oxygen mask near my cheek. She asked me if I felt sleepy. I remember shaking my head 'yes'. She then put the mask over my face and that's it. Total blackout.
I woke up at around 4pm - 5pm. 'Woke up' is a strong term to describe my state. I vaguely remember being aware of the fact that I was in my room and I had my nose bandaged. I was very sleepy and thirsty. The nurse said I'm allowed to drink water in half an hour. So I waited, vaguely awake and dying of thirst. The doctor came to me and said that everything went okay. I remember asking how long the surgery was and he said it went over 5 hours.
I woke up properly in a few hours and the nurse brought me tea and biscuits. The bathroom didn't have any mirrors. I was taking pictures and videos of my face to document my healing process and to look at them later. I didn't dare look at them at the moment. I remember falling in and out of sleep, being very thirsty all the time and always waking up because my lips and mouth were dry as the desert. I couldn't breathe through my nose because of the bandages, so I was waking every ten minutes or so to drink water. Somewhere in the middle of the night, I asked for an analgesic, but if you ask me now, I don't remember the pain.
In the morning, the doctor visited me and I remember him checking my nose, but it's all very vague now. He explained to me that he decided mid-op to perform the septoplasty too. Usually, with septoplasties, the regenerating process is longer, because the inner layers of your nose are being manipulated.
I left the hospital in the evening and I would have to come back in a week to change the cast. 
How was the recovery from rhinoplasty?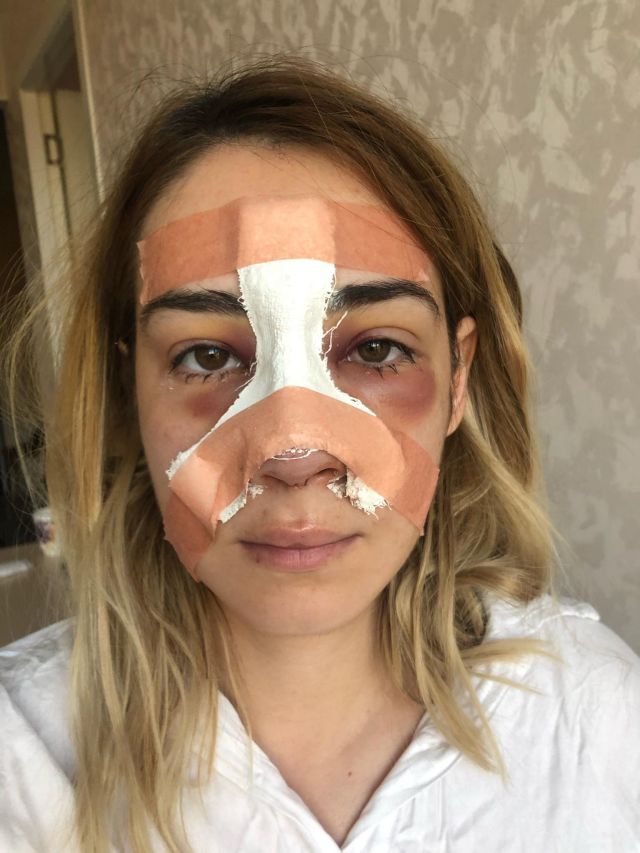 I wouldn't say it hurt as much as I thought it would, based on all the youtube videos I watched. I didn't bruise a lot either. I was just swollen, tired and slow in my movements. I couldn't lean over, move quickly or stand up for a long time. I was taking Nurofen pills daily for the pain and nasal spray that cleans the nose, recommended by the doctor. Here and there, I would feel a sting-like sort of pain inside my nostrils, but it usually passed quickly. The first night was hard. I had to sleep in an elevated position, on my back only. I had to be very careful because if I made any slightly wrong movement, my nose would start hurting. I was very happy about the fact that they removed the bandage I had over my nostrils the first night. I could breathe freely again and not suffocate when I was eating and drinking. I noticed that my face was very oily the first few days after surgery, even though I normally have dry skin. It was very hard to keep it clean because I had a cast covering half of my face and my skin was very sensitive to the touch. I couldn't wash my hair for a week.
It wasn't hard to breathe at all. The only issue I had was not being able to clean my nose because I was afraid of hurting myself. I had two stitches inside my nostrils and at the base. They weren't scary, I just wanted to pick at them all the time. After a week, I went to the doctor to have my cast renewed. I'm not going to lie, this process hurt. When the doctor was molding the wet plaster cast onto my nose, he was pushing his fingers in every corner to make sure it stuck. God, did it hurt. Also, when he cut the surgical threads inside my nostrils, it felt like being pinched really badly. This was probably the most painful thing about the whole surgery.
I came back after another week to have my cast removed completely. Nothing painful about the procedure this time. The doctor said he was really pleased with the result.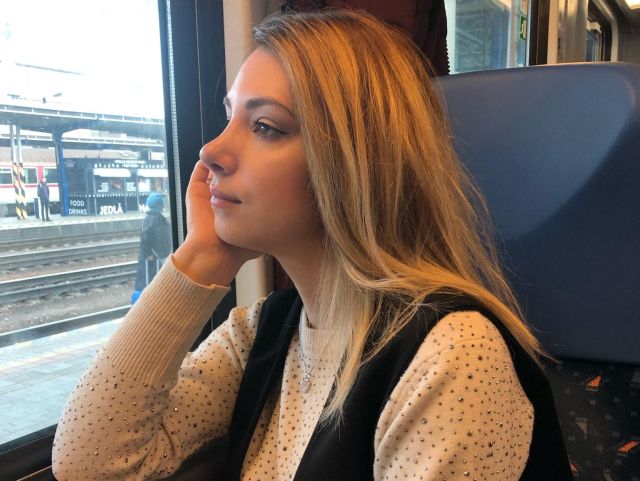 When I looked in the mirror, I felt weird with my new nose. Before I used to have a thin, elongated nose, but now I had this flat potato on my swollen face that hasn't been washed properly in two weeks. It was weird.
I initially planned to come back to work two weeks post-op, but I felt it was too soon, so I stayed another week at home. I was able to work remotely four days after being operated on.
All in all, three months post-op, I am extremely pleased with my new nose. It still feels weird to the touch and I can't get used to the gap that used to be my hump. I can easily apply makeup. It's too early for me to wear glasses though because my nose bridge is the most sensible now. I am aware the entire healing process takes up to one year, but I am already very pleased. 
What information about the surgery do you wish you knew before?
I wish I wasn't so worried before the surgery about the pain. It honestly doesn't hurt as much as they make it out to be. Anything else was completely new to me. I honestly didn't have any kind of expectations going through this process. The recovery seems to be going very well, according to my surgeon and other doctors that I went to for other reasons and that complimented my nose and my doctor. 
What important advice would you give to anyone that is planning to have a nose job? 
I can't stress enough the importance of trusting your surgeon and understanding whether he or she understands what you need. If your visions are the same and you're both on the same page, the process will be easy. Also, make sure there's someone to take care of you during the first week after surgery, it's important you don't overexert yourself. I had a good experience with my surgery, so I can't suggest anything that the Internet hasn't spoken about yet. I only wish the reviews I read online stressed more on the fear aspect - that it's not as scary as it seems.
Get insights from a patient's perspective. Learn about the actual process of rhinoplasty through our comprehensive Rhinoplasty guide.

Also, compare prices using our Plastic Surgery In Turkey Price Comparison for an idea of how much you might need to budget.

If you're ready to look at actual options, browse through our available Rhinoplasty Packages from various clinics. 
Country Reference
Services