Aek Hair Institute
Hair Transplant Clinic in Turkey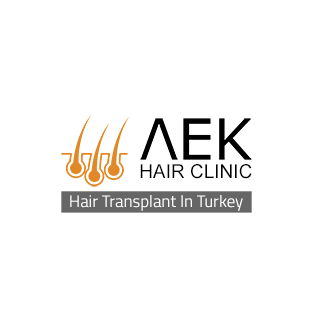 Top Specialities:
Represented by:
This Clinic is unverified - no representative is available.
Provider Category
Provider Type
Hair Transplant Clinic
Location
Address
Dudullu Caddesi No:23 R2 Blok D:114 Kucukbakkalkoy, 34750 Atasehir/istanbul, Turkey
Turkey
Description
AEK HAIR CLINIC is one of the best hair transplant clinics in Istanbul, Turkey. It was founded by Dr. Ali Emre Karadeniz, who is practicing hair restoration surgery from 2010 and during this time has performed over 3000 hair transplant procedures which include: FUT, FUE, eyebrow transplants, body hair transplants, beard transplants, and repair procedures. Since 2011Dr. Ali Emre Karadeniz is a member of ISHRS and in 2015, he became a diplomat of ABHRS.
General information about hair transplant:
It is a procedure that consists of 3 steps:
1.Graft harvesting – which means taking hair follicles from a donor area (at the back of the head and sides where permanent hairs are found). This procedure is done by using one of the 2 techniques: follicular unit transplant (FUT, FUSS, strip method) or follicular unit excision (FUE, one by one graft extraction).
2. Recipient site incision – this procedure is done by using custom pre-cut blades which suit the characteristics of the patient's grafts.
3.Graft placement – during this part of the procedure, the grafts are placed into the incisions, which means that the bald area becomes refilled.
At AEK HAIR CLINIC in Turkey, an average hair transplant procedure is performed in 7-9 hours, under local anesthesia, that is making the process mostly painless.
The clients should be aware that hair transplant costs in Turkey are lower than in other countries around the world, and AEK HAIR CLINIC in Turkey offers the best price/quality ratio.
Although there may occur some complications, like some or all of the transplanted hairs not growing, donor damage and depletion, or an unnatural looking result, AEK HAIR CLINIC has a team of professional doctors and due to their competence, the incidence of these complications is very low. Also, they are always ready to take responsibility for the quality and results of their work and in case the patient is not satisfied a free touch-up procedure will be offered or even a refund.
Treatments provided by Istanbul hair center:
FUT Hair Transplant – during the procedure a skin strip is removed from the back of the head. The donor area is closed with stitches and after healing a linear scar is left behind.
FUE Hair Transplant - is used to isolate each follicular unit individually by using a sharp metal instrument, called a 'punch'. The technique was introduced to prevent the scars left in FUT. Although FUE is considered scarless, it leaves small scars that are visible on a close examination.
FUT + FUE Combined Hair Transplant – the combined techniques are used when a big amount of hair is needed at once.
Unshaven Hair Transplant – this is an option for patients who need to socialize as soon as possible.
Long Hair Transplant – the disadvantage of this technique is that it provides a limited number of grafts, but instead it is possible to have a preview of the result, it enables the surgeon to see the design and coverage during the procedure and also allows the patient to socialize faster.
Hair Transplant For Women in Turkey – the procedure in women should have a more complex approach, because the cause of hair loss may be either systemic or local.
Afro Hair Transplant In Turkey – this kind of procedure is very challenging due to the curly/kinky nature of afro hair, so that's why only a professional team from the Istanbul hair center will be able to solve such problems.
Body Hair Transplant (BHT) In Turkey – this technique is very useful when donor scalp hair is not sufficient. In this case, beard or chest hair are considered to be good options.
Hair Transplant Repair In Turkey – these are the most challenging situations. In this case, the patient struggles not just with the natural loss of hair, but also with an unsuccessful hair surgery history. So the doctors have to work twice as much to bring satisfaction and trust to this category of patients.
Eyebrow Transplant - the hair is taken from the donor site and placed in the area of the eyebrows so that they will look natural.
Beard Transplant In Istanbul – to effectively restore the beard hair of a man, it is reasonable to use the hair from the back of the head to perform the transplant.
Technologies used by AEK HAIR CLINIC :
DHI & DHI-DR – create a natural appearance to your transplanted hairs and allow the doctor to transplant the graft one after another.
Sapphire Blades & Platinum Blades – the technique allows the doctors to make very precise incisions
Custodial Graftprotect Solution – is used to create a protective medium for hair grafts and prevent their damage
Needle-Free Anesthesia – is a procedure that makes the administration of anesthesia less painful.
Neurovibration – the technology makes the procedures less painful.
Official URL
Our Websites
Our Services
Our Partners
Medical Tourism Insurance Companies:
No insurance companies as partners specified yet.
Medical Tourism Travel Agencies:
There are no partners yet.
Address
Dudullu Caddesi No:23 R2 Blok D:114 Kucukbakkalkoy, 34750 Atasehir/istanbul, Turkey
This Clinic is unverified - no representative is available.
Aek Hair Institute has no representatives yet. You can still ask questions which will later be answered.