Beleura Private Hospital
Hospital in Mornington, Australia
Top Specialities:
Represented by:
This Hospital is unverified - no representative is available.
Provider Category
Location
Australia, Mornington
Address
925 Nepean Hwy, Mornington VIC 3931, Australia
Australia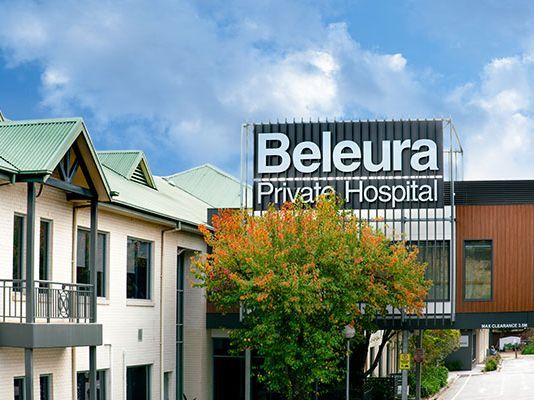 Description
Beleura Private Hospital is a 205-bed facility located in Mornington, Victoria, Australia. The hospital has been serving the local community since 1969 and has a strong commitment to continuous improvement and innovation in response to the local medical, surgical, and mental healthcare needs of the Mornington Peninsula community. In 2015, the hospital opened a rehabilitation unit, further expanding the range of services it offers.
The hospital is equipped with 4 operating theatres, a high-dependency unit, and a short-stay unit. It works with leading medical specialists who are accredited to use its modern facilities to offer a wide range of services locally, including orthopaedic surgery, general surgery, general medicine, breast surgery, endoscopy, urology, gynaecology, plastic and reconstructive surgery, oncology, ophthalmology, vascular surgery, psychiatry, pain management, and respiratory and sleep studies.
Beleura Private Hospital is part of the global hospital group Ramsay Health Care, which ensures that the hospital can continue to deliver a premium healthcare service that remains focused on patient safety, recovery, and comfort. In addition to its clinical services, the hospital also offers a range of specialized services, including day patient chemotherapy, day blood transfusion service, day patient psychiatric program, sleep apnoea studies, pain management, and stress E.C.G.s. The hospital also has a Green Light Laser Surgery for Prostate Enlargement, Day Oncology Unit and Infusion Service and Mental Health Services, Ramsay Health Plus, Cancer Care, and Eye Surgery. The hospital also offers a wide range of surgical operations including minor to advanced procedures in the surgical specialties of orthopaedics, vascular, urology, general surgery, plastics, ophthalmology, gynaecology, angiography-vascular, breast surgery, and maxillofacial surgery.
 
Official URL
Our Websites
Our Partners
Medical Tourism Insurance Companies:
No insurance companies as partners specified yet.
Medical Tourism Travel Agencies:
There are no partners yet.
Address
925 Nepean Hwy, Mornington VIC 3931, Australia
This Hospital is unverified - no representative is available.
Beleura Private Hospital has no representatives yet. You can still ask questions which will later be answered.