PeruDental
Dentist in Lima, Peru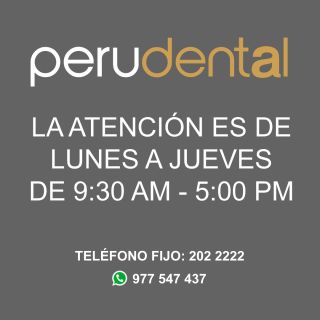 Top Specialities:
Represented by:
This clinic has a representative.
Provider Category
Address
Monterrey 355. Office 401
Chacarilla - Surco
Peru
Spoken Languages
English, French, Spanish
Head of PeruDental Dr Enrique Yuen
Description
We are a digital dental clinic in Lima, Peru with a large focus on Smile Design, Dental Rehabilitation and Dental implants. 
We are experts in 3D CAD CAM and 3D printing, for one-appointment treatments. 
Contact us today for more information. Email. [email protected] or whatsapp +51 977547437
Official URL
Our Websites
Our Services
Our Partners
Medical Tourism Insurance Companies:
No insurance companies as partners specified yet.
Medical Tourism Travel Agencies:
There are no partners yet.
Address
Monterrey 355. Office 401
Address
Chacarilla - Surco
Lloyd Hannis
represents
PeruDental
and will reply to all your messages in a while.